Model C150-100kN
Maximum pressing force of 100kN (10 tons)
Maximum hydraulic pressure 205 bar
Hydraulic oil ISO VG (35 litres)
Maximum downward speed 28mm/sec
overhang 150mm
Maximum stroke cylinder 305mm
Maximum workpiece height 300mm
Dimensions pressing table 390x205mm
Pressing table working height 870mm
Supply voltage 400VAC 3ph 50Hz 1,1kW
Colour RAL 5015/7038
Weight 300 KG
Warranty 1 year
Model C250-150kN
Maximum pressing force 150kN (15 tons)
Maximum hydraulic pressure 205 bar
Hydraulic oil ISO VG 46 (35 litres)
downward speed 28mm/sec
overhang 260mm
Maximum stroke cylinder 450mm
Maximum workpiece height 425mm
Dimensions pressing table 600x290mm
Pressing table working height 890mm
Supply voltage 400VAC 3ph 50Hz 3kW
Colour RAL 5015/7038
Weight 650 KG
Warranty 1 year
Model C300-250kN
Maximum pressing force 250kN (25 tons)
Maximum hydraulic pressure 205 bar
Hydraulic oil ISO VG 46 (35 litres)
downward speed 28mm/sec
overhang 300mm
Maximum stroke cylinder 600mm
Maximum workpiece height 560mm
Dimensions pressing table 650x330mm
Pressing table working height 890mm
Supply voltage 400VAC 3ph 50Hz 3kW
Colour RAL 5015/7038
Weight 950 KG
Warranty 1 year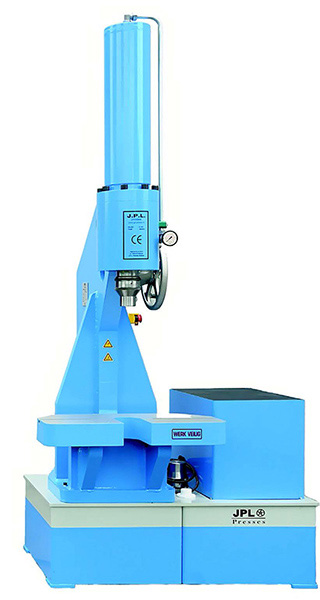 Model C300-400kN
Maximum pressing force 400kN (40 tons)
Maximum hydraulic pressure 205 bar
Hydraulic oil ISO VG 46 (50 litres)
downward speed 28mm/sec
Maximum overhang 310mm
Maximum stroke cylinder 600mm
Maximum workpiece height 520mm
Dimensions pressing table 800x350mm
Pressing table working height 890mm
Supply voltage 400VAC 3ph 50Hz 4kW
Colour RAL 5015/7038
Weight 1450 KG
Warranty 1 year
Model C300v-250kN
Maximum pressing force 250kN (25 tons)
Maximum hydraulic pressure 205 bar
Hydraulic oil ISO VG 46 (35 litres)
downward speed 28mm/sec
overhang 300mm
Maximum stroke cylinder 800mm
Maximum workpiece height 1060mm Dimensions pressing table 650x330mm Pressing table working height 520-1320mm
Supply voltage 400VAC 3ph 50Hz
3kW
Colour RAL 5015/7038
Weight 1350 KG
Warranty 1 year
Model HC200-100kN
JPL does not only manufacture large, stand-alone presses. A good example of a different press produced by JPL is the HC250-100kN. This a table press and thus suitable for mounting on a worktop.
With its 10 tons of pressing force it is, therefore, particularly well-suited for various tasks. You can also use it to press bearings or, for example, to bend workpieces.
The JPL HC250-100kN is also equipped with the hand pump, but can also be delivered with an electric 230V/380V hydraulic powerpack.
Model U300-300kN
Maximum pressing force 300kN (30 tons)
Maximum hydraulic pressure 250 bar
Hydraulic oil ISO VG 46 (25 litres)
speed 10mm/sec
Maximum overhang 300mm
Maximum stroke cylinder 350mm
Maximum workpiece height 200mm
Dimensions pressing table 1000x450mm
Pressing table working height 870mm
Supply voltage 400VAC 3ph 50Hz 3kW
Colour RAL 5015/7038
Weight 700 KG
Warranty 1 year
Factory-equipped with joystick and Touchscreen on which stroke length can be entered. Standard setting knives can be applied using the Amada Procam recording. Perfect for smooth curving, setting of strips.
Strong in custom-made work!
Do you have specific requests or demands? In addition to the standard models, JLP Presses also has the so-called specials. These specials are developed upon request of the customer and together with him. Because the engineering, hydraulics, operating technology, and manufacture of the presses are internally managed, a total product can be realised quickly.